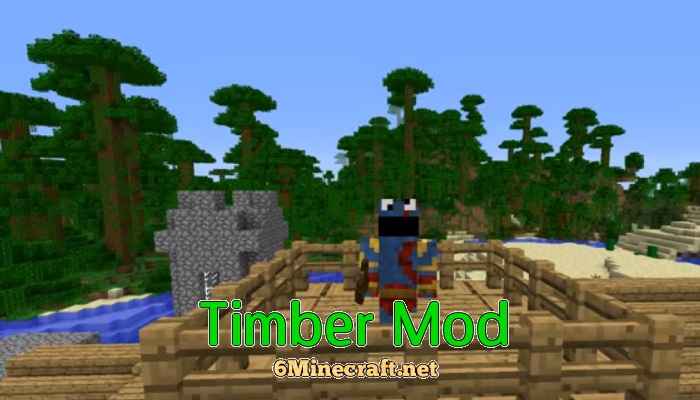 Timber for Minecraft 1.14.2/1.13.2/1.12.2/1.11.2 is a useful modification that makes wood logging faster and makes it hassle free. It allows you to fully and professionally chop down any type of tree(s) on the ground just by hitting the bottom block with any type of axe. It drops all the logs for you to pick up. It's a simple and must have mod for maps such as Twilight Forest, Jungles etc. The latest version is;  Timber Mod 1.12
Timber Mod Features:
Easy wood collection
Works on any type of tree
Supports Single Player (Vanilla Minecraft)
Works with custom weapons (Set item block ID in configuration)

Download Timber Mod for Minecraft 1.14.2/1.13.2/1.12.2/1.11.2/1.10.2/1.9.4/1.8.9
For 1.8.8 – Timber! (1.8.8).zip (Available after release)
Download Timber Mod for Minecraft 1.6.2
For 1.6.2 – Timber! (1.6.2).zip (official mirror)
by TehKrush – Last updated 13th May, 2015
How to install Timber Mod in Minecraft
Windows Operating System
Download and install either Modloader or Minecraft Forge.
Download Timber Mod for Minecraft 1.6.2 from link above.
Go to Start Menu > Type %appdata%/.minecraft and press Enter
Go to Mods folder (if you don't find it, create one)
Move the mod zip file you downloaded in Step #2 to mods folder
Run Minecraft to check mod installation.
Tips and Warnings
Chopping big trees may cause temporary lag (FPS drops)
It's recommended to install Timber on fresh copy of Minecraft to avoid compatibility issues.
Make a back-up of your Minecraft before install.