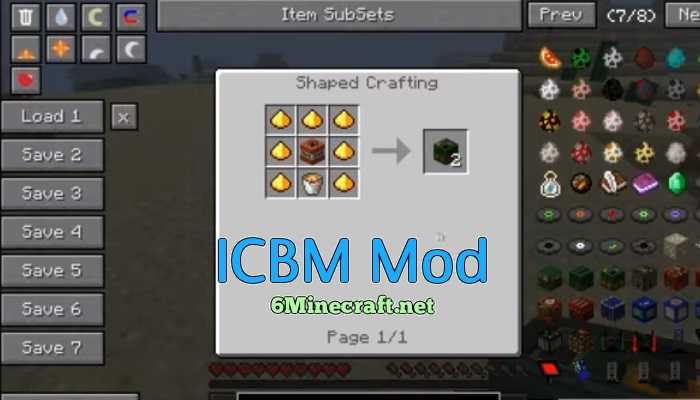 Intercontinental Ballistic Missile (or ICBM) is a modification for Minecraft 1.13.1/1.13/1.12.2/1.11.2/1.10.2 that brings modern warfare missiles technology in your Minecraft world. ICBM mod adds variety of missiles, explosives, launchers which leave games like Call of Duty and Battlefield behind. It literally turns Minecraft into a strategy based game, you can join server, form an alliance and have some destruction going on in your enemy base. ICBM makes use of Universal Electricity mod to make everything happen, the latest version is; ICBM 1.8.9/1.8/1.9.1
ICBM Mod Features:
Adds futuristic WMDs and ICBMS
Chemical and Nuclear Explosives
EMPs and Rocket Launchers
Every weapon has its own effects
Mutliplayer support

Download ICBM Mod for Minecraft 1.12.1/1.11.2/1.10.2/1.9.4
For 1.8.9 – Available after release
For 1.7.10 – ICBM-1.7.10-2.5.1b70-dev-universal.jar (Size: 1.15 MB)
Last Updated on 30th October 2015
Download ICBM Mod for Minecraft 1.6.4/1.6.2
ICBM_version.jar (official mirror)
by Calclavia – Last updated 11th May, 2015
How to install lCBM Mod in Minecraft
Download and install Minecraft Forge API and Basic Components
Download ICBM Mod for 1.6.4 from link above
Go to Start Menu > Type %appdata%/.minecraft and hit enter
Go to Mods folder and put the mod file there you downloaded in Step #2
Launch Minecraft and verify mod installation.
ICBM Mod Changelogs:
Updated to Minecraft 1.8.9
Added laser turrets
Overhauled sentry code
Added better sound fxs to missiles
Update MFFS and Atomic Science API
Fixed radar Computer Craft support
Added multiple wrench type support
Fixed some BuildCraft power issue
Tips and Warnings
Please make a back-up of your Minecraft directory before installation.
You need to read ICBM wiki for detailed recipes and item blocks.
Installing on a fresh copy of game will prevent compatibility issues.
ICBM mod will not fully function unless you install Basic Components (Universal Electricity mod)