TooManyItems for Minecraft 1.8.8/1.8/1.7.10
Marglyph's TooManyItems (TMI) for Minecraft 1.8.8, 1.8 and 1.7.10 is a must-have modification which allows player to gain any in-game item right inside your inventory by using your resources in backpack. It makes your items management easy in creative and survival mode; you can have unlimited stacks of blocks, spawner eggs, enchanting potions and craft items faster with tabbed navigation You can also create/load/delete entire inventories for different game modes. The TooManyItems is available for download for many Minecraft versions below.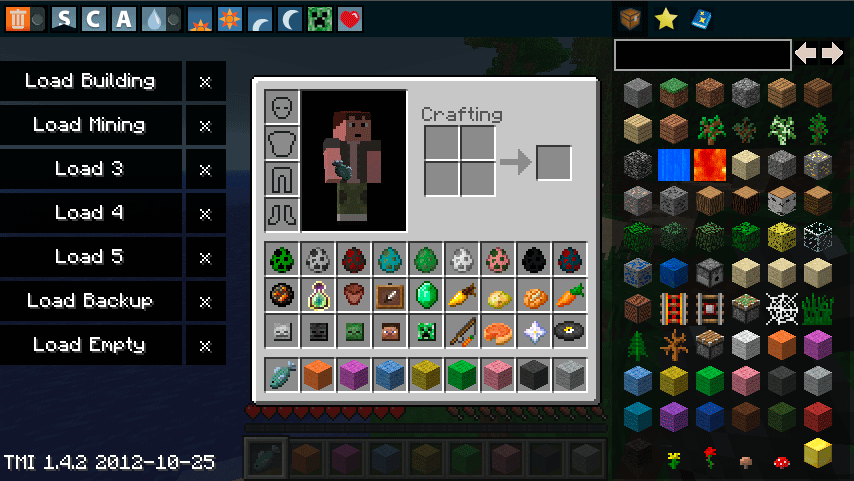 How to Install TooManyItems Mod:
Download the latest version of Minecraft Forge and install it. Make sure you run Minecraft once after that.
Go to Start Menu > Type %appdata%/.minecraft/mods and press Enter.
Download TooManyItems mod jar file from the link(s) below.
Put the downloaded Jar file into the /.minecraft/mods folder.
Launch Minecraft using Forge profile, press 'O' to open menu, Enjoy!
Download Marglyph's TooManyItems Modification

For 1.4.7
For 1.6.4
For 1.7.2
For 1.7.9
TooManyItems2014_05_13_1.7.9.zip (107 kB)
For 1.7.10
For 1.8
For 1.8.8
" Toomanyitems Mod will be available online, right after its release. "
For Forge version, drop the jar file in /.minecraft/mods folder. For normal version, extract the zip file into modded version of Minecraft.jar. McPatcher/MaglicLauncher can be used for this.
by Marglyph, Last updated on 27th July, 2015
Tips & Warnings:
TMI is compatible with Minecraft Forge.
Zombe's Mod Pack is also compatible but it should be installed first.
Configuration file can be found in Saves folder named TooManyItems.txt
If you get black screen or crash log after installation, try deleting META-INF folder in Minecraft.jar.