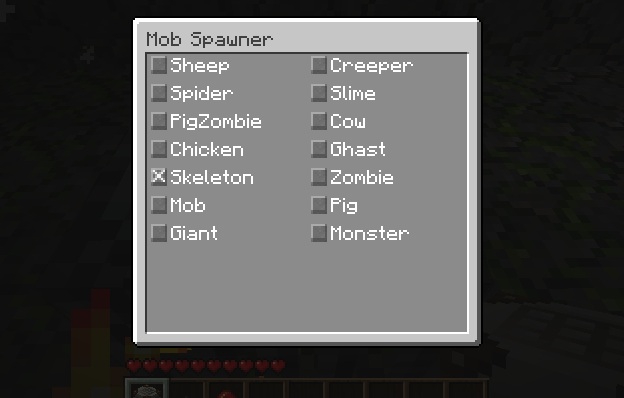 Spawner GUI for Minecraft 1.6.2 is a useful modification that gives you power to spawn any mobs/creeper right in front of youby selecting it from a visual menu. It provides you a list of available mobs and lets you select and spawn them. This mod comes in use when you want to spawn units inside your custom map/world. The latest version is; Spawner GUI 1.6.2/1.6.3
Spawner GUI Features:
Easy to use.
Instantly spawns units.
Singleplayer support
Visual Menu
Download Spawner GUI for Minecraft 1.6.2/1.6.3
For 1.6.2: Spawner GUI.zip (official mirror)
Older versions: SpawnerGUI.zip (archive)

by Risugami – Last updated 10th July, 2013
How to install Spawner GUI in Minecraft
Download and install Risugami ModLoader
Download Spawner GUI mod from link above
Go to Start Menu > Type %appdata%/.minecraft/versions and press Enter
Open your modded Minecraft.jar using any archive editor (WinRAR, 7zip etc.)
Drag all the .class files into the jar.
Put GUI folder files inside the GUI folder in the jar.
Finally, Delete META-INF folder to prevent black screen
Close all the windows and Run Minecraft to check.
Tips and Warnings:
Animals require Grass to Spawn.
Monster requires Darkness
Slimes must be spawn in their special chunks.
Make a back-up of your Minecraft saves before installation to avoid any mishaps