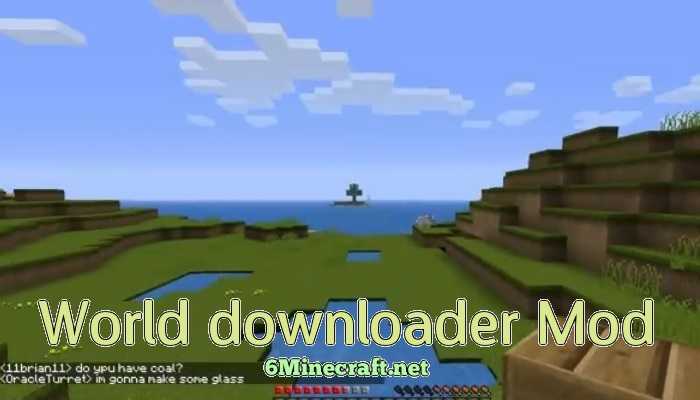 World Downloader 1.13.1/1.13/1.12.2/1.11.2/1.10.2  is a modification for Minecraft that allows you to download any part/chunk of the world you are in into your hard drive for offline use. Most of the mods offer this feature but the world is sometimes too big to download or sometimes doesn't work. It allows you to save all blocks in 1600 radius and max 127 height from any server you want. It also saves the seeds, inventory, gamemode, health and experience. The latest version is; World Downloader 1.9.
Mod Functions:
Records a part of any world you are in.
Records items that are lying on the ground.
Saves all the players characteristics, inventory and other details.
Supports Minecraft Realms
Download World Downloader Mod 1.12.1/1.11.2/1.10.2/1.9.4 and below:
For Minecraft 1.9 Beta 2: Coremod (src) 
For Minecraft 1.9 Beta 1: Coremod (src) 
Last Updated on 13th March 2016
For 1.8.9  – WorldDownloader-1.8.9a-beta1
For 1.8.9 (Litemod) – WorldDownloader-mc1.8.9.litemod
For 1.8.8  – WorldDownloader-1.8.8a-beta3
For 1.8 (Litemod) – World-Downloader-mc1.8-1.1.13.litemod [ Direct – Size: 84 KB]
For 1.8 (Core) World-Downloader_1.8c-fix-CoreMod.zip [ Direct – Size: 114 KB]
For 1.8 –   World-Downloader.zip (82.4 KB)
by cubic72 – Last updated 23rd September, 2015.
How to install World Downloader Mod for Minecraft
Windows Operating System
Go to Start Menu > Type %appdata%/.minecraft/versions and press Enter.
Open modded version of Jar with any archive explorer (WinRAR or 7zip).
Put World Downloader's class files into the jar and overwrite if necessary.
Delete META-INF folder there.
Close all the windows and launch Minecraft.
Tips and Warnings:
Other human players, spawn position (if its moved), offers from villagers can not be saved.
Does not require ModLoader/Forge for installation.
You need to press 'Esc' and use menu to download the world.