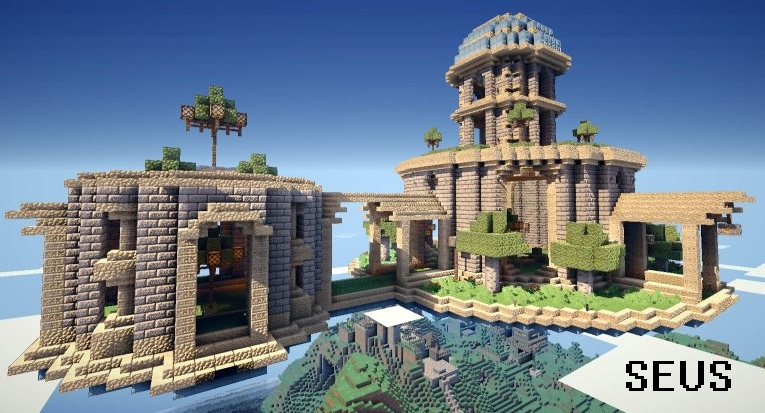 Sonic Ether's Unbelievable Shaders 1.6.4/1.5.2 (or SEUS) is a graphics enhancement mod for Minecraft that transforms your in-game world into a realistic and beautiful environment without making use of 3rd party texture packs. This mod relies on GLSL shaders and OptiFine to add eye candy visuals and shaders for day and night effect. It gives a new life to your Minecraft and make it look like real world. The latest version is; SEUS 1.6.4/1.7.1
Features:
Improved Fog
Realistic Shaders
Optimized Textures
Mipmaps, Motion Blur
Better Draw Distance
..and everything that involves bringing new generation graphics.
Download Sonic Ether's Unbelievable Shaders for Minecraft
v10.0 for Minecraft 1.6.4/1.6.2

v10 Release Candidate 7

The above version supports v1.6.4 and v1.5.2. Just make you're using right Shaders mod.

by SonicEther, DaxNitro – Last Updated 15th August, 2013
How to install Sonic Ether Unbelievable Shaders in Minecraft:
Download and install latest version of GLSL Shaders along with OptiFine HD
Download your desired SEUS shader pack from the link above
Go to Start Menu > Type %appdata%/.minecraft/ and press Enter.
Go to Shaderpacks folder and place the zip file there (refer to Step #2)
Now run Minecraft, Go to "Options > Shaders" and select SEUS v10.0.
Enjoy, don't forget to use your favorite texture packs!
Tips and Warnings:
It would be nice if you install SEUS on a fresh/vanilla Minecraft. It avoids many compatibility issues/errors.
Update your Graphics Card drivers to the latest
Use this mod only, if your Vanilla Minecraft gives you 100+ FPS
Mac OS is not supported because it does not fully support OpenGL
Onboard (builtin motherboard) graphic cards are not supported, you won't get more than 5 FPS
Delete META-INF folder in Minecraft.jar, if you are having black-screen
You will find detailed installation instructions inside the zip file of SEUS