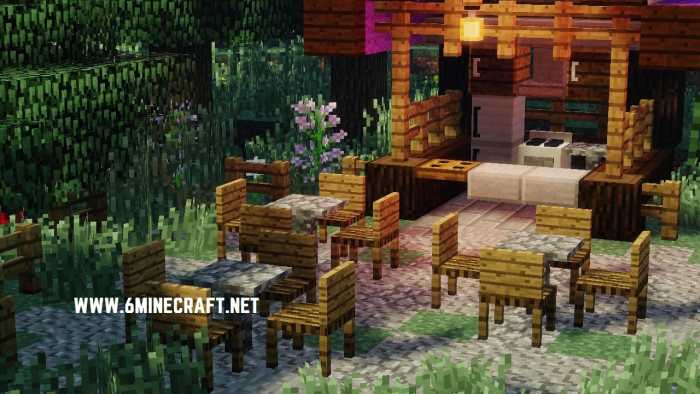 Furniture Mod 1.13.1/1.13/1.12.2/1.11.2/1.10.2  adds something that has been missing in Minecraft since it's beginning. This mod gives you ability to furnish your in-game houses with accessories, appliances, wooden furniture and other decoration items. The Furniture mod has been carefully crafted to meet the requirement of every house that is built in Minecraft. Every item this mod adds has an active function. The fridge and cabinets can preserve items, oven can cook, Lamps can be powered by Redstone. The fun part is, each furniture item can be colored according to your preference.
Furniture Mod Details:
Here's the list of items and details that mod author, McCrayFish exclusively wrote for the people.
Recipes and Screenshots Gallery
Download Furniture Mod 1.13.2/1.13.1/1.12.2/1.11.2/1.10.2 by McCrayFish
For Minecraft 1.12.2:

For Minecraft 1.11.2 
For Minecraft 1.10.2 
For Minecraft 1.8.9 
For Minecraft 1.8.8 
♦  MRcrayfishfurniture-Mod-v3.6-.jar (Direct – File Size: 8.50 MB)
♦  Mrcrayfishfurniture-Mod-v3.6-.jar (Direct – File Size: 8.50 MB)
Last Updated on 19th December 2015
For Minecraft 1.8
♦  MrCrayfishFurni-tureModv3.5-1.8.jar  [Direct – Size: 8.41 MB]
♦  MrCrayfishFurni-tureModv3.4.8-1.8.jar [Mega.nz – Size: 1.6 MB]
How to install Furniture Mod in Minecraft
Please get the latest build of Minecraft Forge and install it. Make sure you run Minecraft once after that.
Run Minecraft Launcher, click Edit Profile > Open Game Dir.
It will open root directory of Minecraft. Open Mods folder from there.
Now download the JAR file of  Mod and save the file in the mods folder you just opened.
Re-launch the game, mod will be installed. Enjoy.
Tips and Warnings:
Please back-up your existing World saves, maps before making any changes to the Minecraft
All credit goes to McCrayFish for this awesome mod. Have fun.