Ruins Mod for Minecraft 1.8.9/1.8/1.9.1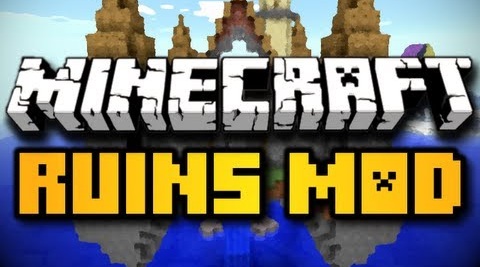 Ruins is a modification for Minecraft 1.8.9/1.8/1.9.1/1.7.10 that brings spawns pre-generated structures in your world. With the help of Ruins mod you can randomly spawn Statues, Villages, Castles, Sky scrappers and every building that looks abandonded in your biomes. It also allows you to add any structure you made via MCEdit and import it to Ruins mod template. The fun thing about this mod is, it places treasure chests inside Ruins to help you in Survival mode. The latest version is; Ruins Mod 1.8.8
Ruins Mod Features:
Automatic Random Structures
Supports Survival and creative mod
User generated content support
Item chest inside ruins
Multiplayer support
Ruins Mod Screenshots:

Download Ruins Mod for Minecraft
For 1.9 – Available after release
For 1.8.9 – Available after release
For 1.8.8 (Direct) Ruins-1.8.8.zip(491 KB)
For 1.8.8 (Alternate) Ruins-1.8.8.zip
For 1.8 – Ruins-1.8.zip (384 KB)
For 1.8  Ruins_1.8.zip ( Direct – 384.92 KB)
For 1.7.10 Ruins_1.7.10.zip (560 KB)
by AtomicStryker – Last updated 20th Dec, 2015
How to install Ruins Mod in Minecraft
Download and install Minecraft Forge API.
Download Ruins Mod from the link above
Extract the Ruins mod zip file.
Go to Start Menu > Type %appdata%/.minecraft and press Enter
Go to mod folder of extracted files you did in Step #3
Go to Setup > Mods and copy the mods folder into ./minecraft directory
Close everything and Launch Minecraft to verify mod installation.
Tips and Warnings
It's wise to create backup before installation of any mod
You can edit /mods/ruins.txt for configuration
The source code of this mod is placed inside src folder in zip file.