Not Enough Items Mod for Minecraft 1.8.7/1.8/1.7.10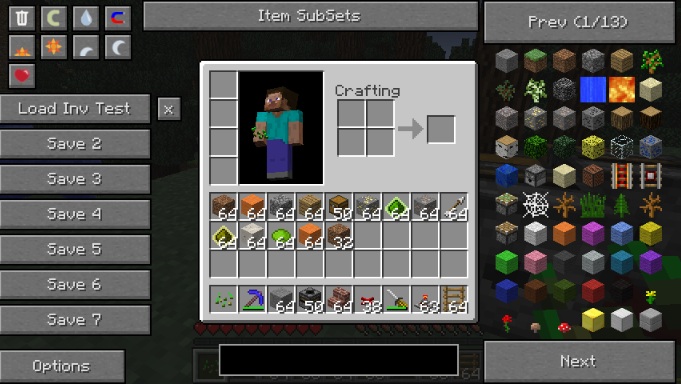 Not Enough Items is a modification for Minecraft 1.8.7/1.8/1.7.10 that enables a better inventory management system for your Minecraft items. It's an alternative to Too Many Items Mod.combined with Recipe Book Mod to give you hassle free item/recipe creation and give you details of every block present in your inventory. It has a built-in search box, save/load profile and tons of other customization options. The latest version is; Not Enough Items 1.8.7/1.7.10
Not Enough Items Features:
Updated to Minecraft 1.8.5
Recipe Mode (Crafting, Smelting, Brewing)
Fast Item Search
Item Subset Dropdown menu (Hiding\Showing)
Complete SMP support if installed on server
Enchantment Sector
All types of Mob Spawners obtainable and place able.
Magnetic Mode Support
Heal Button for instant healing
Mob Spawners in SMP show the mob type
Advanced configuration files
In game Options Menu
An Extended API supporting extended item damages, mod based sorting tags and custom recipes with ModLoader type loader
Download Not Enough Items Mod
For Minecraft 1.8.7
After release.
For Minecraft 1.8.4 
For Minecraft 1.7.10
For Minecraft 1.7.2
For Minecraft 1.6.4
Get Forge, download both Jar files and put them in /.minecraft/mods folder.
For Minecraft 1.5.2
by chicken_bones – Last updated 9th September, 2014
How to install Not Enough Items Mod in Minecraft
Windows Operating System
Download and install Minecraft Forge.
Download Chickencoremods and Not Enough Items Mod jar files.
Go to Start Menu > Type %appdata%/.minecraft and press Enter
Open mods folder and move Chickencoremod and NEI jar files there
Start Minecraft to verify mod installation.
Tips and Warnings
NEI is compatible with Mo' Creatures Mod
Configuration files can be found in "config\NEI.cfg"
Make a backup of your Minecraft saves before installation
More detailed guide and troubleshooting can be found in official link.