Custom NPC Mod for Minecraft 1.9/1.8.8/1.7.10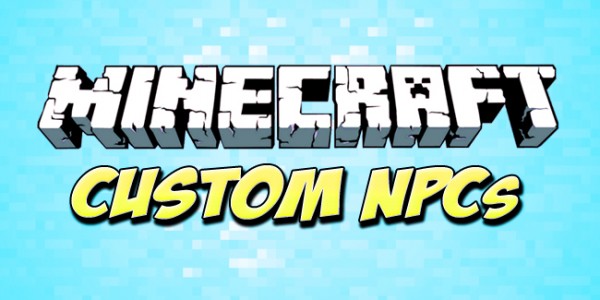 Custom NPC is a modification for Minecraft 1.9/1.8.8 that adds Non Player Characters of your choice inside your Minecraft world. This mod is directly aimed for helping creation of custom survival/adventure maps. It lets you add fully customizable units, you can set dialogs, skins, items, armor, attack rate and anything you could do with your character. Custom NPC supports multiplayer as well, you can populate your entire server within minutes. The latest version is; Custom NPCs 1.9/1.8.8/1.7.10
Custom NPC Features:
Set custom models/textures to NPC mobs.
Supports NPC Roles (Banker, Healer, Trader etc.)
Friendly, Neutral and hostile factions
Custom Dialog and Quest
NPCs can carry custom items
And much much more
Download Custom NPCs for Minecraft 1.9/1.8.8

Custom_Npcs_1.8.8.zip (Available right after release)
Download Custom NPCs for Minecraft 1.8
For 1.8 – CustomNPCs_1.8.0_beta.jar ( Direct – Size: 10.3 MB )
For 1.8 – Custom_Npcs_1.8.zip (official)
Download Custom NPCs for Minecraft 1.6.4
Custom_Npcs_1.6.4-2.zip (official)
Custom_Npcs.zip (old versions archive)
by Noppes – Last updated 13th May, 2015
How to install Custom NPCs Mod in Minecraft
Windows Operating System
Download and install Minecraft Forge API (skip, this step if you have already)
Download Custom NPCs mod zip file from the link above.
Go to Start Menu > Type %appdata%/.minecraft and press  Enter
Open mods folder, if you dont find it, create one.
Drag and drop the mod zip file into ./minecraft/mods folder (don't extract it)
Start your Minecraft to check the mod installation.
Tips and Warnings
Please make a back-up of your Minecraft directory/jar prior to installation.
You can add your skins to the .minecraft/customnpcs/mob folder or create a zip with a mob folder and put your skins in there and put it in the .minecraft/customnpcs/packs folder.
Custom NPcs mod currently does not support Bukkit.
Dokucraft Texture pack [32x] is supported by this mod
For more detailed guide and troubleshooting, check official link of CustomNPC mod.