Animal Bikes Mod for Minecraft 1.6.4/1.6.2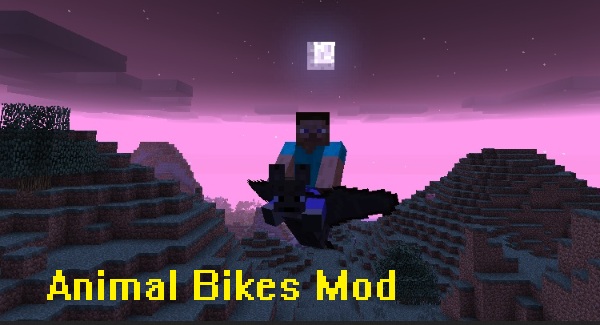 Animal Bikes is a modification for Minecraft 1.6.4/1.6.2 that allows you to use animals as a mount. You can tame the animals and use them as your ride. All you need is to craft the Saddle and spawning egg to summon your mounts. Some of the animal bikes, like Pony and Bat can fly and they have different special abilities according to their type. Bat Bike has nightivision, Wolf Bike can attack, Ender bike can teleport etc. It's a really fun mod for both singleplayer and server, the latest version is Animal Bikes 1.6.4.
Animal Bikes Mod Features:
22+ full featured Animal Bikes
Bukkit, ModLoader and Minecraft Forge support.
Craftable recipes for easy spawn
Colorful bikes
User-permission support for servers
Download Animal Bikes Mod for Minecraft 1.6.4
AnimalBikes.zip (for 1.6.2)

AnimalBikesOld.zip (old versiosn archive)

by Noppes – Last updated 15th November, 2013
How to install Animal Bikes in Minecraft:
Download Animal Bikes mod zip file from link above.
Go to Start Menu > Type %appdata%/.minecraft/ and press Enter
Go to Mods folder and paste the zip file (refer to Step #2)
Start Minecraft to verify mod installation.
Tips and Warnings
Make a backup of your Minecraft directory and saves before continuing.
For server installation, put ModLoaderMp Server.zip or Forge Server.zip into minecraft_server.jar
Configuration file(s) can be found in .minecraft/config/mod_AnimalBikes.cfg – Change the values to True or False
If you download MCPermissions Mod you can deside who can use which bikes.
You can view the saddle and bike recipes here.